I originally posted this on the
Knoxville Gospel blog
but thought I would include it here as well since so many famous Knoxville Bluegrass artists were involved.
The setting for the concert was a benefit singing that was put together by Randy Smiddy, for his brother-in-law,
Jamey Hill
, who had a kidney transplant last year. Jamey's hospital bills added up in the thousands of dollars. This was a very worthy cause and several great Bluegrass bands stepped up to the plate to play at this benefit. I was invited by my good buddy, Jerry Butler, lead singer and founder of the Blu-J's, which was one of the headliners of the night. Besides
Jerry Butler and the Blu'J's
, there were three other groups,
Rocky Flatts
,
Don Rigsby and Midnight Call
, and
Paul Williams and the Victory Trio
were also on the playbill.
On the evening of the concert I called my parent's house to see if my dad would go with me. He had church obligations and couldn't go but my mother said she would love to go in his place. So, we drove down to Anderson County High School in Clinton, TN where the concert was being held. We were a little bit late but I was surprised at the amount of people that were attending. I'm not a good guesser at crowd numbers but I would say there was at least 500 people there. The concert was held in the gymnasium and the center section had metal folding chairs setup. There didn't appear to be a single seat available so my mother and I sat on the bleachers off to the side of the stage. As we were sitting there we notice that over on the far left of the stage on the front row, there were about 5 empty chairs. We kept eyeballing those seats while Rocky Flatts was on stage and we wondered if the chairs were reserved for them. After they finished playing my mother went over to the folks sitting beside the empty seats and inquired about them. "
Nope, they ain't reserved,"
they said. We quickly sprinted across the gym and had the perfect front row seats right in front of the loudspeaker.
Since we had gotten there late, we missed most of
Rocky Flatts
set, however, I had hosted them
at my church last year
and was really familiar with their sound. From the few songs that I did hear, they did a fantastic job. They are pretty much no-nonsense on the stage, just straight picking, singing, and testifying. They are a talented group of guys. I wish I had gotten more pictures of them but like I said, I didn't have the most choice seat at that time.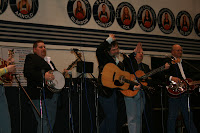 Next up was
Jerry Butler and the Blu'J's
. Of course I have had the pleasure of hearing
Jerry Butler
on many occasions but this was the first time I had heard him with his new band, the Blu-J's. They were outstanding! Their mandolin player, Bobby Clark, was not able to be there due to the death of his mother, but, Don Rigsby gracefully filled that position and did a fantastic job. I had heard John Wade's bass playing skills when he was with the
Carolina Road band
and I knew he was top-notch. I was most impressed with their Resonator Guitarist, Tim Goins. Not only was his picking skills superb, he has nice rich vocals and he is an excellent song writer. Banjo player, Daniel Oxendine, plumb wore out the 5-string banjo and I really enjoyed his big smile and obvious enjoyment of playing with the band. What else can I say about
Jerry Butler
that I haven't said before? He is one of the finest lead vocalists and guitar pickers in the business. The rich quality of his voice sets apart any band that he is involved with and his stage presence and camaraderie with the audience is second to none. The band probably played every song off of their latest CD,
Haulin' Grass
, and a few others that I had never heard before. I can't wait to hear these guys in concert again.
Next to hit the stage was
Don Rigsby and the Midnight Call
. I had never heard Don Rigsby before. I wasn't sure what to expect. You know that old saying, "you can't judge a book by it's cover?" Well, let me tell you, just a casual glance at Don Rigsby you would never know how much talent he has hidden beneath his unassuming frame. From the first song he belted out, to the last, I sat in awe at his amazing tenor vocals. When I thought there was no way his voice could possibly go any higher, he would reach further up into the rafters. When he sang, Kentucky Waltz, I nearly cried it was so good. Then, by popular demand of the audience, he pulled off one of the best renditions of Rocky Top I have ever heard. I will definitely be looking for more opportunities to see Don Rigsby again.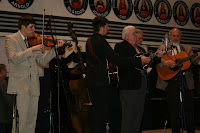 Last but certainly not least,
Paul Williams and the Victory Trio
took to the stage. I have listened to Paul Williams' music for several years and knew that he was a superb singer and musician. I had never seen him perform in person and had no idea how spiritual he was. Being a minister of music myself, I was thrilled to see a group with such talent, dedicate their lives and music to the Lord. Sitting there in that gymnasium felt much like being in a really good church service. Shouts of Amen could be heard echoing off of the bleacher lined walls as Paul Williams would testify on stage. They sang for about an hour and every song was like listening to music from Heaven. Paul also had 2 special guests step up to the microphone, the first one was local Bluegrass/Gospel artist,
Mavis Hughes
, who had written a song that Paul Williams had recorded and he asked her to come up and sing it with them. Wow, talk about a voice! She reared back and let it rip, nearly bringing me to my feet with a shout. Then Paul asked the concert host,
Randy Smiddy
, to come to the stage. Randy sang 2-songs with them and he did a wonderful job. He has a very nice, rich baritone voice and was a delight to listen to. I know it was a thrill for him to sing on stage with Paul Williams & Victory Trio.
One of the deacons at my church has been trying to get me to book Paul Williams at our church for the past 3-years. I actually came close to achieving that about 2-years ago but the only date they had available was right before Christmas and we just had too much going on at the church to do that. After seeing and hearing them in person, I will go the extra mile to book them now. I'm thinking a Saturday evening concert might work out better than a Sunday booking. I'll keep you posted about that.
The entire evening was emceed by
WDVX
radio personality,
Freddie Smith
, and he did a great job keeping things running smoothly. It was one of the most enjoyable evenings of bluegrass/gospel music that I've experienced in a long time. From what I understand, there was around $5,000 dollars raised and there is talk of another benefit concert being held this summer. Keep checking back for more information. If you would like to send donations for Jamey Hill, you can send them to the following address:
Shultz Hollow Baptist Church
c/o Jamey Hill Kidney Fund
P.O. Box 1002
Clinton, TN 37717
See all pictures from this great night HERE.